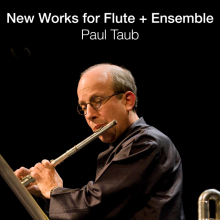 Flutist Paul Taub is organizing the commissioning of five composers with Seattle ties to create new works for flute in mixed ensembles.  As well as a new work by Angelique Poteat for flute, clarinet, cello, double bass, and piano, other works will be by composers Tom Baker, Jessika Kenney, Andy Clausen, and David Dossett.  The final pieces will be performed by the outstanding talents of performers Paul Taub, flute; Laura DeLuca, clarinet; Walter Gray, cello; Joe Kaufman, double bass; Cristina Valdes, piano; and Matthew Kocmieroski, percussion.
Read more about the project HERE and help support the creation of these neat new works!
If you're in Seattle and able to attend, the concert will be presented on November 20, 2015, 8pm, at the Chapel Performance Space.